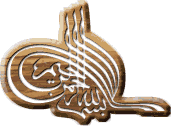 Hazrat Imam Rabbani Mujaddid Alif Sa'ni, RA., Sirhind, India.
Parentage : Name Sheikh Ahmad, title Mujaddid Alif Sa'ani, son of Makhdoom Sheikh Abdul Ahad, scholar as well an activist of the Farouqi Chistia Order, decedent of Umar Farouqi, Second Caliph, with twenty eight links in the chain, was born in the year 971 Hijri at Sirhind in Punjab. It is said that the territory of Sirhind was a dense forest abound with lions so named as Sher-e-Hind which when mutilated became Sirhind.

Intrinsic Studies: His father made him proficient in material or outer studies as well as intrinsic or spiritual studies or training, then he bestowed upon him the robe of heir and passed away from this world in peace.

Association with Hazrat Baqi Billah:
With the intention of proceeding for the Haj pilgrimage, he set out from Sirhind to Dehli and stayed with Maulana Hasan Kashmiri and from him heard of the virtues of Khawaja Baqi Billah. This aroused in him an intense wish to see him. When he saw Hazrat Baqi Billah, he was delighted to see him and gave up the idea of the pilgrimage and engaged in spiritual training under the guidance of Khawaja Baqi Billah. During the first three months of the training, Hazrat Khawaja Baqi Billah was so much impressed with the spiritual powers of the Mujaddid Alif Sa'ni that he awarded him the robe of his heir.

Sirhind stay and Spiritual Movement: On his return from Dehli to Sirhind he drew a detailed and extensive program for the moral and spiritual awakening of the people along with introduced teaching and sermonizing. Not much time had elapsed that he was again called to Dehli and received two letters one after the other at short intervals. He went there. Hazrat Khawaja made him guardian of his children. This was their last meeting. After this the Mujaddid returned to Sirhind. Hazrat Baqi Billah passed away in the meantime. The Mujaddid was in Lahore. When news reached him, he set out to Dehli immediately, paid homage to him at his grave and stayed for a short period of time.

The Mujaddidi's Deeds: During the reign of Mughal Emperor Akbar, in the tenth century Hijri, Islam was passing through a lean period; was under seige of blasphemy, atheism, and irreligious. Akbar was providing state patronage to Deen-e Elahi and was practicing un-Islamic rites. Fire, trees, and water were worshipped. At this juncture. Islam needed a fearless believer to defend it against the onslaught. He did not permit the opportunist scholars and the misguided emperor to garner strength and kept the torch of truth burning in such trying times.

Books: Hazrat Mujaddid Alif Sa'ni was a great writer but his letters proved more popular than his books. These letters translated in Urdu, not only express his opinion on various issues but are also fine pieces of language and style. Besides them following are some of the titles of his books:


Mobada-o-Ma'ad.
Ma'arife-ladqiya.
Makashifaat-e-ghebia.
Sharah Rubaeyat-e Khawaja Baqi Billah, R.A.
Risala-Telilia.
Risala Isbat-ul-Nabu'wat.
Risala Basilsila-e Aha'dis.
Revelations and Miracles: One day a man told him that his relative was grievously ill and requested to pray for him. He hesitated a little and said it was not proper to pray for health to the deceased. Hearing this the man went out crying, and when he reached back to his village, he found his relative dead and saw the people crying.

Death: He suffered from the Arthritis that took its toll. He died on the 9th of Rabi-ul-Awwal in 1079 Hijri.


---

Please

Click Here to Mail Me