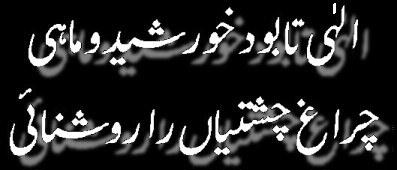 ( O' Lord till the sun and moon last; the lamp of Chishti continue to light )
Hazrat Naseeruddin Mehmood, Rohsan Chiragh, Dehlavi, R.A.
Biograhy: ( 1179 -1265 AD )
Biography: Parentage: Hazrat Nasiruddin Mahmood Chiragh Dehlavi is a bright lamp to the Chishtia Order and is also a successor of his teacher and spiritual guide, Hazrat Nizamuddin. His name is Nasiruddin, title Mahmood and qualitative name Chiragh Dehlavi. His father Syed Yahya and grand father Syed Abdul Latif migrated from Khorasan to Lahore but his father still moved further deep into the country and settled down in Avadh, UP. He traces his parentage to Umar bin-Khattab RA, with several links in the chain.

Education: His father died when Hazrat Nasir Uddin was nine. All responsibility of his education and bringing up finally rested on his mother. He received initial education from Maulana Abdul Karim Sherwani and after his death from Maulana Iftikhar Uddin Gilani and completed his education till he was twenty. During studies he was inclined towards prayers, used to stay in the wild for being alone with God for his devout prayers, and frequently observed fasts and broke them with leaves or wild berries. He spent most of his time with a mendicant.

In Delhi: He mentions the event of his pledge of obedience to Hazrat Nizamuddin; "I stood at midday, near the residence of the Mahboob-e Elahi. He was descending from his first floor steps so that he could go to another room to rest. While descending, he saw me sitting on the threshold and summoned me to his room through a servant.. When I went to him, he said, "What purpose do you have? What do you intend? What does your father do?" I replied, "My aim is to serve you humbly and my father dealt in Pashmina cloth. " Mahboob-e Elahi, RA showed kindness, and admitted me into his service and I pledged to follow him". Hazrat Nizamuddin loved him and so he designated him his heir and supplicant, gave him Baba Farid's sacred relies and other things of the Chishtia order.

Prayers and Meditation: He practiced meditation and said prayers as a student but under the guidance of his teacher he perfected the divine practices. Once his 'self' disturbed him so in order to sub-due it he ate so many lemons that he fell ill. Once he did not eat anything for ten years continuously. Then the Mahboob-e Elahi asked Khawaja Iqbal to feed him Halvah (pudding) with bread. Once he made a request to him through Hazrat Amir Khusro to allow him to pray away from the city. Hazrat Nizamuddin rejected the request and advised him to remain among the people and to bear all the tribulations, in return do kindness, sacrifice, and generosity. He was also interested in poetry and composed moving verses in Persian language..

Origin of Being Chiragh Dehlavi: There are many stories about this qualitative name. One day many mendicants sat with the Mahboob-e Elahi, Hazrat Nasiruddin also went there. His teacher asked him to sit down, but he said, "My back would turn towards them." Upon which Mahboob-e Elahi replied, "A lamp has no back".

The king of Dehli Sultanet was envious of Hazrat Nizamuddin Auliya and once he stopped the supply of oil to the monastery, at the eve of a large gathering there. Hazrat Nasiruddin told him about the edict ( pulic order or theOrder of the king ). The teacher said, "did the well, which is being dug, give out any water?" Nasiruddin replied, "yes, Sir!". Mahboob-e Elahi said, "put it into the lamps of the monastery and lit them". The order was obeyed and the lamps were so lit. From that day on Nasiruddin became known as Chiragh Dehlavi.

Hazrat Makhdoom Jahanian Jahan-Gasht once reached Mecca and saw Imam Yafai. During conversation a mention was made of the Delhi saints. Imam Yafai remarked, "Sheikh Nasiruddin Avadhi is now the lamp ( chiragh ) of Delhi".

Death: He died in 757 Hijri and was buried in the room he lived in. The town was named after him as Chiragh Delhi. Pilgrims, irrespective of caste and creed throng in large numbers to his shrine all the year round and specially around his Urs.

Sultan Muhammad Tughlaq set out to Thatta, Sindh, and took several saints with him. He wanted Hazrat Nasiruddin Chiragh also to go along with him, but the Sheikh replied, "my accompaniment with the Sultan in this journey is inauspicious. He will not return safe". The Sultan did not return alive, and his cousin, Firoz Tughlaq, ascended the throne of the Dehli Sultanet.

Quotes:
Good intention is needed for all activities.
A morsel earned in business is a good thing.
Quest of the world with good intention is the quest of the lasting life.
People have forsaken the Qur'aan and Tradition, so they suffer.
The best prayer is to keep people happy.
---

Please

Click Here to Mail Me