Hazrat Khawaja Nizamuddin Aulia, RA, Mehboob-e Elahe, RA : Dehli, India.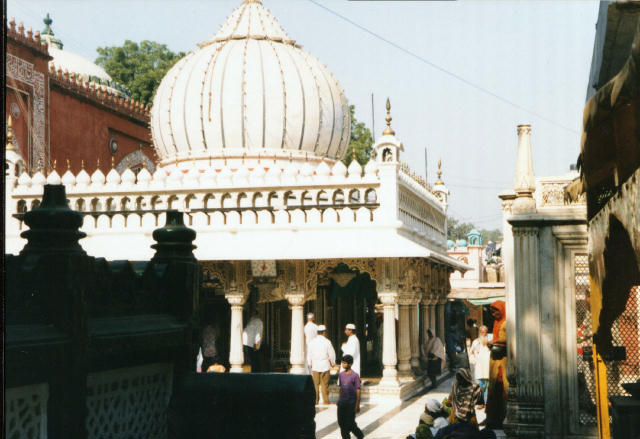 Mazar-e Mubarak Mehboob-e-Elahe R.A. New Delhi

Hazrat Nizamuddin Aulia. RA, was one such saint, who illuminated the nooks and corners of India with the divine light of the Deen ul Islam and all people, young or old, lords or commons, rich or poor, were equally benefited.

Muhammad was his name but he was called by various titles, like Mahboob-e Elahi, Sultanul-Aulia, Sultanul Mashaikh and Sultanul Salateen. His grand father, Syed Ali, a resident of Bukhara, and his father, Syed Ahmad, were well known Syeds and traced their lineage to Hazrat Ali with 15 of his ancestors falling in the chain. His maternal grandfather, Khawaja Arab Hussain was Syed and resided in Bukhara. Both families migrated to India. Syed Ahmad was married to, Bibi Zulekha. Badaiyoun, in those days, was a great center of learning so his father settled down there on migration from Bukhara.

He was born on the 27th of Safar 636 Hijri, in the city of Badaiyoun. After learning the Holy Quran he read books on various subjects, Quadoori from Maulana Alauddin Usooli, Maquamaat-e Hariri from Maulana Shamsuddin Malik, and obtained distinction in outer subjects like Jurisprudence, Tradition Commentary, Speech, Logic, Mechanics, Arithmetic, Vocabulary, Literature, and Recitation. He also obtained the degree of 'Mashariqul Anwar' from Maulana Kamaluddin at Dehli.

Divine Education and Stay in Delhi: He completed his exterior education at Badaiyoun and reached Dehli with his mother for further education and finally settled here. He took lessons from the renowned Scholars Maulana Shamsuddin and Maulana Kamaluddin Zahid. And came to be recognized as a distinguished scholar.

Search of the Teacher: He later set out in search of a teacher and guide who could lead to spiritual and intrinsic learning. During his stay at Badaiyoun, he was apparently introduced to Baba Farid Gunj-e Shaker through Abu Bakar Quawwal and came to have faith in him and longed to see him. Baba Farid's younger brother, Sheikh Najibuddin Mutawakkil, was his neighbor in Delhi. His intimacy with Sheikh Mutawakkil added fuel to the fire.

Change in Life: He spent nights in prayer in a mosque. One morning the muazzin recited the Quranic verse from the minaret meaning:
"Hasn't time come for the Faithful that their hearts bow down in praise to God".

The verse left a strange effect on him, his heart began to shake, and tears rolled down the cheeks; worldly love left him, and his heart was flooded with divine light. No longing remained, and under the condition he set out for Ajodhan, for Fareeduddin Guje Shaker.

Baba Fareed was extremely pleased to see him and recited the Persian couplet:

"Ai A'tish-e furqat dilam kabab karda;
Sailab-e Ishtiaqat janam kharab karda."

(The fire of separation has roasted the hearts and the flood of fondness has wasted the youth.)

Removing his kulah-e char Turki (a kind of Turkish cap) from his head he placed it on his head. Mahboobe-Elahi recounts the meeting. "When I presented myself to him, he found symptoms of fear in me then said, "Welcome! God willing, you will find bounties of the world as well as of the Deen."

Servitude and inheritance: Baba Fareed said to him, "I wanted to accord this rank to some other person but it was revealed to me that you are to come from Dehli. The rank was fated for you and so I continued delaying it."

Baba Farid also gave him other things like his robe, sandals, prayer mat and staff etc.

Hazrat Nizamuddin pledged obedience to Baba Farid on 15, Rajab 655 Hijri and stayed in his service till 3, Rabiul Awwal 656 Hijri, and engaged in prayer and meditation under his guidance and soon attained high degrees and proficiency in conduct and divinity. Baba Farid sent him to Delhi laden with divine and spiritual conduct.

Before his departure to Delhi, Baba Fareed gave him special robe he inherited from peers of the chishtia Order, and a document confirming his appointment as his spiritual heir and instructed him to repay the loan the earliest. To keep the enemies happy by all means, to strive hard in prayers, and said, "Under the orders of God, I grant Maulana Nizam Uddin the territory of India. And leave the country under his charge, and appointed him my regent" He asked him to show the document to Maulana Jamal Uddin at Hansi and Qazi Muntakhib in Delhi. When Maulana Nizam Uddin met Maulana Jamal Uddin at Hansi, he was pleased to see him and expressed happiness on the appointment.

Delhi was a populous city and he found it difficult to find a uitable place. He selected Ghayaspur for his stay in Delhi.

Prayer and Meditation: He busied himself in prayer and meditation in Delhi, renounced material things, and kept fast regularly. He did intense penance for 30 years. He led a life of renunciation and resignation, had no interest in things of the world. He said his prayers regularly. After the Chast and Ishraq prayers he sat in the congregation of sophists and mendicants and discussed problems of mysticism. After midday prayer he talked to the students and seekers of knowledge, and spent his nights in prayers.

Self-sufficiency and fasting: He passed his early days of his stay in Delhi in extreme poverty. Often observed fast three days continuously. When had nothing to eat his mother would say, "We are Allah's guests today". "I drew much taste from my mother's statement." Penury and povery were so acute, when he shook the suspended bag at the Afar time out dropped dry pieces of bread with which he broke his fast.

Victories: Sheikh Burhanuddin Gharib and Sheikh Kamaluddin Yaquob, who later became his heirs, lived with him. One day Kamaluddin boiled some flour in an earthen pot then came a mendicant and demanded food. Mahboob-e Elahi placed the pot before him, the mendicant ate some from it and then dashed it to the ground, and said, "Sheikh Nizamuddin Aulia, Baba Farid blessed you with divine bounties and I have broken the pot of your apparent self-sufficiency." After which he saw no shortage.

Generosity: Baba Fareed said, "may you consume seventy mounds of flour daily in your kitchen!"

His kitchen always remained hot. Poors and Beggers thousands of them ate from it. Whatever received in the monastery was promptly given away to the needy. Nothing was saved. Many people drew sustenance. Numerous students and Hafiz were given help. The kings of the Delhi Sultanet were surprised at this.

Death and Distribution of sacred relies:

When he anticipated death, he gave his special robe, a turban, and a prayer mat to Maulana Burhanuddin Gharib, and ordered him to go to Deccan. The same things to Maulana Yaquob and prepared him for Gujrat. He also gave the same articles to Maulana Shamsuddin, but denied anything to Maulana Nasiruddin Chiragh Dehlavi. People were surprised at the outcome. On Wednesday Mehboob-e Elahi called Hazrat Nasiruddin and entrusted to him staff, prayers mat, rosary, sandals, robe, and other sacred relics of Baba Farid and said, "you shall have to bear the tribulations of the people and stay in Delhi. "All of your heirs are well known but Amir Khusro loved him profoundly.

He laid his life on 18 Rabi-ul-Sa'ani. His tomb stands in Nizam Uddin Basti and attracts thousands of Hindu, Sikh, and Muslim pilgrim's daily.

Books: The following are mostly in article and publications nature:
Fawaed-ul-Fawaed
Afzal-ul-Fawaed
Rahat-ul-Mohibbeen

Besides he noted the interesting incidents of the meetings of his teacher, Baba Farid, in a book entitled 'Rahatul Quloob.'

Revelations and Miracles: Sultan Ghayasuddin Tughlaq was envious of him. He bore great ill will for him. Once when he was returning from Bengal to Delhi, he sent word to Mahbooh-e Elahi to leave Delhi. This grieved him and people heard him say, "Delhi is still Far", and it so happened that Ghayasuddin did not reach Delhi. Tughlaqabad palace collapsed on him and he got killed. He never made to Delhi.

His Wondrous Deeds: His attention and care revolutionized the society. Morals and conduct of the people improved. They became truthful and true to their words. He welcomed every body; treated the sinners kindly, and robbed them. To all, elite's or the sundry, rich or the poor, King or the beggar. Learned man or a layman, he taught to be penitent and pure. His mission not only reached the four corners of India but to China also. Khawaja Salar Han ban was his spiritual heir in the country.

Quotes:

True wisdom is to renounce the world.
Knowledge is achieved o- Salik achieves greatness from four things: Less eating, Less talking,
Less sleep, and less socializing.
Benediction drops at three times: in the state of hearing music, eating for purpose of obedience, speaking about the mendicants.
In making a deal one should not talk as to make veins stand on his neck viz. symptoms of prejudice and anger.
Patience is: "When a man periences a thing not to his liking, he does not complain"
But willingness is the thing that suffering does not make him feel bad as if it has not befallen on him.
Love of saint's rules over their intellect.
The joys neither make a mendicant happy nor sufferings grieve him.
About complete faith he said: "One must trust in God and should not expect of anyone besides Him."
---

Please

Click Here to Mail Me